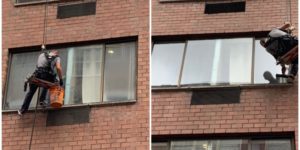 There's plenty to love about living in New York City. After all, NYC hasn't earned a reputation for being one of the greatest cities in history by accident. That said, as is the case with any large city, congestion can have its adverse effects. Consider your home's windows. Odds are good they get dirty pretty…
Read More
1. Safety
Because we have the proper certifications and insurance policies, you can be confident you've hired professionals who know how to handle these tasks safely.
2. Efficiency
Time is a valuable resource. We understand this. That's why, without cutting corners, we work as efficiently as possible.
1. Eco-Friendly
You need to know the cleaning agents used on your windows won't harm yourself, others, or the environment. Fortunately, when you hire NYCleaningVIP, this isn't an issue you need to worry about.
We Service ManhattanAnd The Greater Brooklyn Area
Whether you're a homeowner, business owner, or property manager in Manhattan or the Brooklyn area, when you need window cleaning service, you need NYCleaningVIP. Although we're already trained and experienced, we're also constantly building our skills and improving our equipment, making sure we're ready to deliver the best possible service.